The Campus Kitchen™ at Washington and Lee University (CKWL)
Lexington, Virginia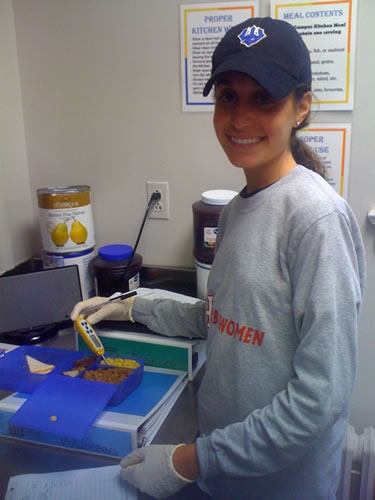 Ever wonder what happens to all the food in university dining halls that doesn't get eaten? While many schools simply toss it out, others, like Washington and Lee University in Lexington, Virginia, are working to find a use for it that is both environmentally sound and socially conscious.
The Campus Kitchen? at Washington and Lee University (CKWL) is a nonprofit organization that recovers unused food from the campus's dining halls and grocery stores and, with the help of volunteers, recreates it into meals. The meals are then served in partnership with 15 community agencies to those in need through congregate meals, refrigerated individual meals and even backpacks filled with nonperishable items.
"It just makes so much sense that food that would otherwise go to waste is now a meal for someone in need," said Jenny Sproul, CKWL coordinator.
But it doesn't end there. The organization has branched out to provide nutrition education to area adults and children through programs like Seed to Feed, which ties nutrition to growing food in the organization's organic garden, and partnerships with the local Free Clinic, the Lexington City Office on Youth summer camp and the YMCA summer camp.
CKWL also provides the opportunity for university students to develop their leadership skills: Student volunteers are offered the opportunity to develop important skills, like grant writing, program development, event organizing and more. Additionally, each year the student leadership team, composed of 18 members, takes control of the operational aspects of the kitchen's volunteer shifts.
Sproul says that while the main focus of CKWL is hunger relief, their kitchen has become a leader in environmentally sustainable practices on campus and in the community. Each week they recycle over 1,000 pounds of food that used to end up in landfills. The food they are unable to serve, such as scraps and leftovers, are composted.
The organization's efforts became even more environmentally minded after receiving a grant from 4imprint®'s one by one® program for reusable food containers.
"Before the meal containers, food was delivered in disposable, Styrofoam containers that volunteers would simply leave with clients at their doors," said Sproul. "But now, the meal containers are reusable which is not only better for the environment, but offers another opportunity for volunteers to connect with recipients when they return to pick up the containers."
Part of a national organization based in Washington, D.C., CKWL University has just served over 50,000 meals since 2006 and with the new containers in tow, Sproul looks to serving many more.
"Serving others and getting to know people in the community — what could be better than that?"
For more information about The Campus Kitchen™ at Washington and Lee University (CKWL), please visit http://www.wlu.edu/x38717.xml opens in new window