Soroptimist International of Farmington Valley (SIFV)
Canton, Connecticut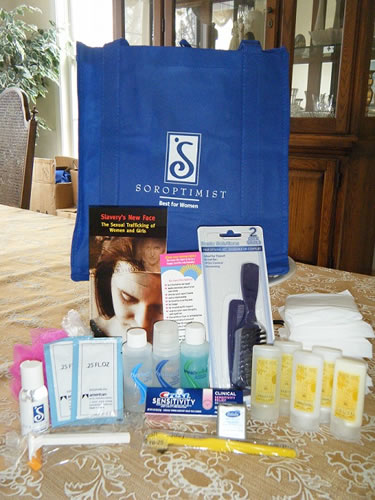 The term, "soroptimist" means best for women, and appropriately, Soroptimist International of Farmington Valley CT's mission is to improve the lives of women and girls in local communities and throughout the world. This group, which is a local club of Soroptimist International, consists of business and professional, community-minded women who select local programs that not only align with the Soroptimist mission but that suit the members' interests, too.
This past year, Soroptimist International of Farmington Valley (SIFV) has enriched the lives of more than 500 local women and girls, supporting several worthwhile causes including programs in local schools, the Burmese-Karen refugees in Hartford, CT and the Prudence Crandall Center of New Britain, CT, an emergency, domestic violence shelter.
For the shelter, the group assembled and delivered 120 care packages, 100 for women and 20 for infants. The packages included a hair brush and comb, deodorant, shampoo and conditioner, shower gel, razor, toothpaste, toothbrush, dental floss, mouthwash, diapers, wipes, baby wash, baby lotion and hand sanitizer. These were given to the clients in a re-usable, logo imprinted grocery shopping bag, as many women arrive at the domestic violence shelter without these everyday necessities. The hand sanitizer and re-usable grocery shopping bags were made possible by a 4imprint® one by one® grant.
"I originally read about the one by one® program on a 4imprint® Blue BoxT insert we received with a previous order," said Soroptomist International of Farmington Valley President Tracy Scala. "When I was developing the budget for the care package project, I remembered what I'd read about the program and decided to apply for a grant." Scala, upon learning the project was chosen, was, "very happy and excited . This was a wonderful advertising tool for our club and I'm so pleased we were able to get the Soroptimist name and 'Best for Women' tagline out to the world!"
For more information about Soroptimist International of Farmington Valley (SIFV), please visit http://www.soroptimistner.org/clubs_farmingtonvalley.htm opens in new window