Child & Family Support Center
Logan, Utah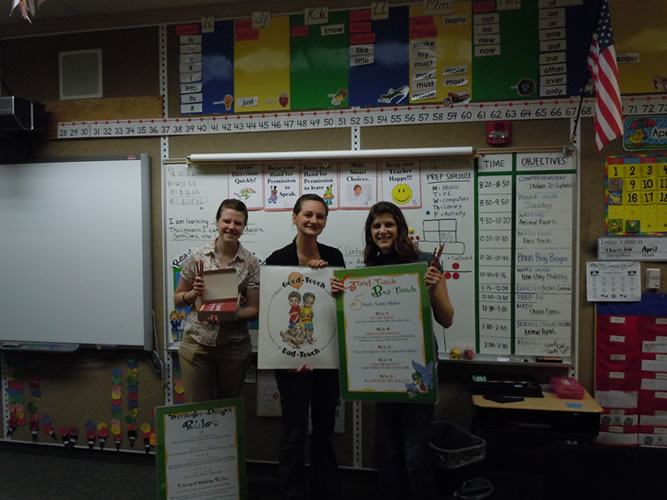 She was confused, but she knew what to do. She had a pencil somewhere with a number on it, and her teacher said she could call that number anytime she felt like she had questions. She dug around in her backpack and found the pencil for the Child & Family Support Center. Then she dialed the number, breathed in deep, and felt a more calm. "They'll be able to help me," she thought
Hilary Anderson of the Children & Family Support Center (CFSC) in Logan, Utah oversees Good-Touch/Bad-Touch®, a school-based classroom program. "Every year children disclose information to us that they're being abused," Anderson says. In an effort to prevent child abuse and neglect, the CFSC brought the program to Cache Valley, UT in 1999 and it has steadily reached a greater audience each year. In fact, in 2011, the CFSC had the most participants they'd ever seen: more than 5,000 children and adults.
Good-Touch/Bad-Touch is a research-based ChildhelpSM sexual abuse prevention program for pre K-6th grade students. It was integrated into local schools with approval from administration and teachers to teach children about the different kinds of touches — from good, to bad, to confusing.
"Most schools in the valley always invite us back," says Anderson. And, interestingly enough, the police are able to track where the program has been, and they can see a difference, too.
After the program, each student receives a card with rules on it, but the CFSC wanted to do a little more, something with their information on it. That's where the 4imprint®'s one by one® program was able to assist. Pencils with CFSC's contact information were distributed to increase awareness about the Center, and let parents and youth know they can always call with questions or any kind of a problem.
The Child & Family Support Center has been dedicated to its mission of Strengthening Families and Protecting Children since 1982. Good-Touch/Bad-Touch is only one of the many different educational services the CFSC offers. They have services for first-time parents, step-family relationships, social skills, anger management and therapy for victims of abuse, too — all tools they may need to have happy healthy families!
For more information about Child & Family Support Center, please visit http://www.cachecfsc.org/aboutus.html opens in new window