Freedom Guide Dogs for the Blind
Cassville, New York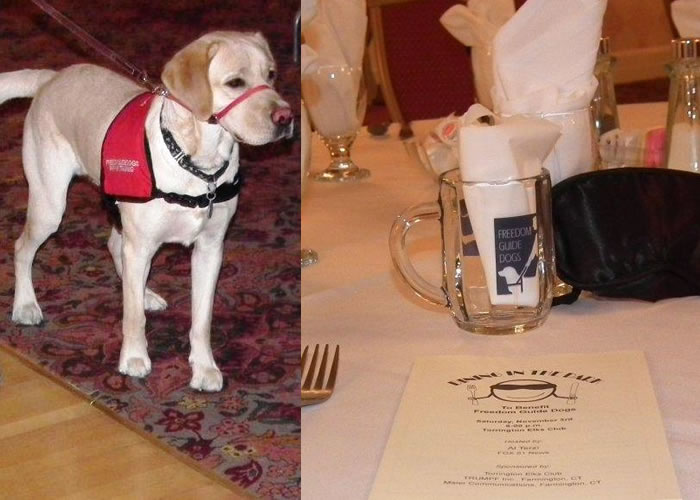 Twenty years ago, Eric and Sharon Loori founded Freedom Guide Dogs for the Blind. They wanted to reach out to people who may have difficulty fitting in with other organizations, so they worked to develop something that could adapt to include visually impaired clients with special needs, including multiple disabilities and an inability to travel. In recent years, Freedom has expanded their focus to include veterans who lost their sight in the line of duty.
When a client is approved for a guide dog, they have to go through a two- to three-week training. However, many people cannot risk that time away from their families. One very unique thing about Freedom is its Hometown Training program™. Instead of the client coming to its facility in Cassville, New York, Freedom trainers travel to the client to help both dog and client adapt to one another in the client's home community.
All donations to Freedom, whether corporate or individual, cover the operating expenses of the organization. One of the most successful fundraisers to date was the Dining in the Dark event held in November 2012. Both donors and clients were there — as were some of the guide dogs. Approximately 140 people came together to raise nearly $10,000 that night, the most memorable part of which was experiencing dinner while blindfolded.
Many guests discovered that eating without their sense of sight is very difficult. They noted that buttering rolls and pouring water were the two most trying tasks. Pouring water was especially tough because the venue supplied stemmed water glasses. But luckily, each guest had an alternative: A promotional coffee mug from Freedom Guide Dogs.
Cheryl and John Kornegay are volunteers with Freedom. They remember how people gravitated towards the mugs as water glasses because they were more stable. They also remember how the mugs suddenly became a very important part of the meal. Coincidentally, the coffee mugs were a donation from one by one®, 4imprint®'s charitable giving program.
When Cheryl first learned that Freedom had been chosen, she looked for something people would use regularly. "We wanted something they could use on a daily basis . so we could have our names in front of them."
The coffee mugs, and the event, went over very well. It meant a lot to one mother in particular when she overheard her young son remark to his older visually impaired brother that he "never realized how hard it would be to eat without seeing."
For more information about Freedom Guide Dogs for the Blind, please visit http://freedomguidedogs.org/ opens in new window