Green Valley Enterprises
Beaver Dam, Wisconsin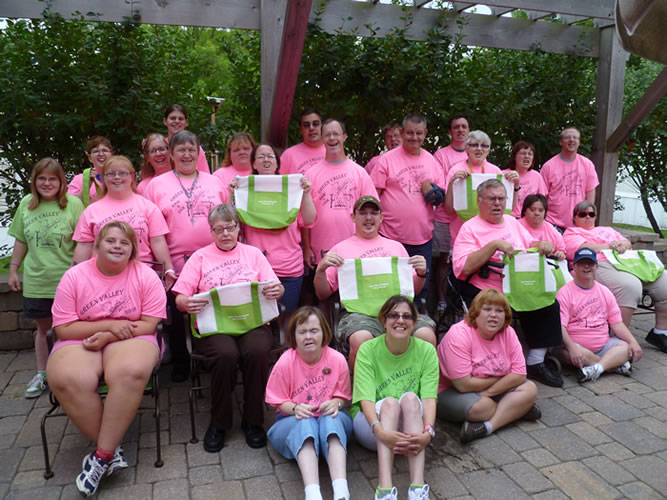 There are 400 lucky individuals and families in Dodge County, Wisconsin. They're lucky because they're part of Green Valley Enterprises, a human services agency. Green Valley's mission is to serve people of all ages with special needs, helping them achieve their maximum potential and supporting their growing independence. Green Valley also works hard to ensure that individuals with disabilities can continually redefine their futures.
The agency serves people of all ages, beginning with its Birth-to-3 developmental screening program. There are also in-house programs for elderly people and those with dementia. Green Valley offers therapeutic day programs for those who are intellectually and developmentally disabled, as well as an employment services program where people with special needs can learn basic vocational skills and find employment in the community.
Ham 'N Jam is Green Valley's annual fundraiser to build the agency's endowment fund. Each year there is a raffle, something for which basket-like prize packages are offered. Kristin Hanson, Green Valley's Manager of Client and Agency Development, had a different idea for 2012, and she asked 4imprint® to help make it a reality.
On the afternoon of the last Saturday in July, Ham 'N Jam began, but instead of traditional prize basket raffles, prize packages were organized in emblazoned tote bags from one by one®, 4imprint®'s charitable giving program ... They were a hit!
Kristin recalls the event well as one of the "best-integrated community events," she says. "There were 700 people, clients and businesses and community movers and shakers, all listening to the same music with people that we serve fully participating."
"Looking back," she says "it was just a really good experience."
For more information about Green Valley Enterprises, please visit http://www.greenvalleyinc.org/ opens in new window