Jefferson Elementary School
Oshkosh, Wisconsin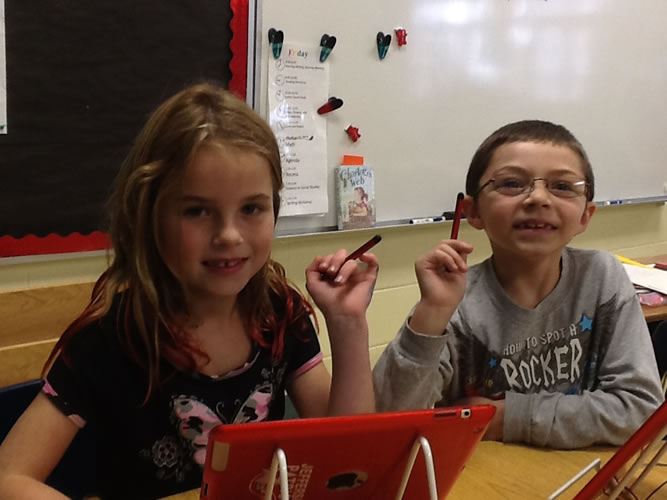 Students at Jefferson Elementary School in Oshkosh, Wisconsin, were in for a surprise when they began the 2012 school year . tablets. Each student was assigned their own iPad® as part of the One-to-One program, a broad-based initiative to bring technology to classrooms around the country.
The One-to-One program is part of a Wisconsin Department of Public Instruction (DPI) program known as Student Achievement Guarantee in Education (SAGE) which emphasizes academic achievement through smaller class sizes. SAGE schools can receive up to $2,250 for each eligible low-income K-3 child and at Jefferson, more than 70 percent of Jefferson's students qualify for free or reduced school lunches.
Jennifer Ruetten is part of the Parent-Teacher Organization (PTO) at Jefferson. She notes that while other schools and PTOs are able to buy similar devices for their student populations, the Jefferson School PTO simply isn't able to generate that kind of income. But, as part of the SAGE program, "we've been the first in getting a lot of things in the district," she says. "It helps the learning of some of the kids who don't get it at home . and the teachers are great. They work really, really hard to support those kids."
Whether the iPads are used for math or for writing projects, science research or movie-making, they're used nearly every day. And so far, both students and the teachers like them. "It's interesting how they've taken to it," Jennifer remarks.
But students aren't the only ones enjoying them. Parents like Jennifer have taken to the tablet trend, too, especially since they're able to see and receive their children's work digitally now.
When parents of the Jefferson PTO asked teachers what else they might need, they said styluses. That's where 4imprint® came in. Jennifer knew about the one by one® program and applied for styluses to complement the iPads. "We put the school name on them in case they were accidentally lost. And we ordered them in school colors, too, so that's kind of fun," said Jennifer.
Even more fun: iPads from One-to-One and styluses from one by one®!