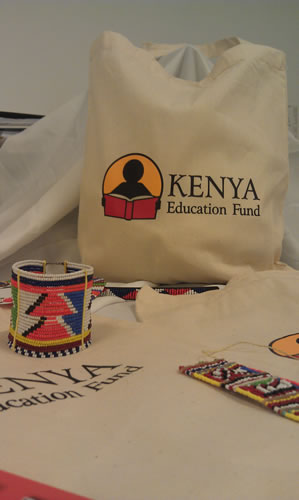 Josephine, a Maasai girl of 17, was to be married to a 67-year old man; her father was not able to pay for her secondary education. With the Kenya Education Fund (KEF)'s assistance, Josephine avoided early marriage and, in fact, recently graduated from college in Nairobi, where in October 2011, she earned a diploma in Human Resources management. The next step in Josephine's education is to secure her advanced diploma for which she is already enrolled and attending school. Josephine is now the most educated person in her family of over 25 brothers and sisters.
Over 75 percent of Kenyans don't finish high school because of poverty. That's where the KEF comes in. The organization's mission is to provide disadvantaged students in Kenya with support and educational resources so that they may complete high school, improve their communities and break the cycle of poverty in Kenya.
KEF was founded in 2005 by Brad Broder, a former Peace Corps volunteer in Kenya. While serving between 1999 and 2001 Broder met students who were forced to drop out of school after 8th grade because they could not afford the cost of tuition — the equivalent of 600 USD each year. Over half of all Kenyan families live in poverty, only earning a total of 800 USD in annual income, rendering secondary education a distant second to other things like food, shelter and water.
In 2011, KEF merged with the Nomadic Kenyan Children's Education Fund (NKCEF) to form a broader network under the KEF umbrella. Together, they sponsor over 500 students in almost 240 high schools, colleges, and universities in each of Kenya's eight provinces. The KEF counts as one of the largest NGOs of its kind in terms of the number of high school beneficiaries with 4-year boarding scholarships.
Valeria Bonanome is the development manager at KEF. She explains that the people within the organization believe that "secondary education is the cornerstone to personal and professional development," but it is hindered by financial circumstances. To that end, KEF has a network of donors that make it possible for Kenyan children to go to high school. By donating, says Bonanome, "they contribute to an individual's ability to change their family and their village, and thus help break the cycle of poverty."
Back in early spring, a friend of Brad's suggested 4imprint® as a company that awards grants to nonprofits and encouraged KEF to apply. In May, KEF was awarded a one by one® donation of tote bags from 4imprint®. The totes will be featured at a golf outing in September and given to board members and donors as a way to generate further awareness of the program and its very important mission because, as Bonanome said it best, "It's a great feeling when you're able to hear 'If it wasn't for you . I wouldn't have gotten so far.'"
For more information about Kenya Education Fund, please visit http://kenyaeducationfund.org/ opens in new window