Wings of Phoenix Association
Ottawa, Ontario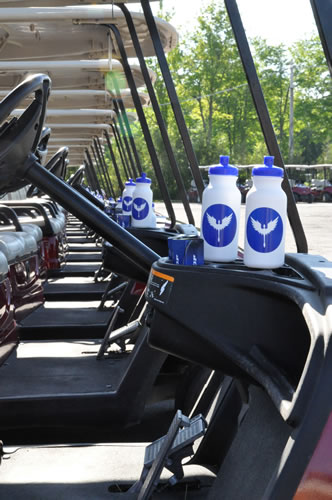 In September, 1984, Ottawa Police Officer, Robin Easey, was shot in the line of duty. He sustained a severe head wound resulting in a brain injury. Sargent Easey and his wife Glennis discovered there were little resources in the community for the costly physical, psychological and vocational rehabilitation services so critical to victims of acquired brain injuries.
Glennis and her husband never gave up hope, and in 2001, the Wings of Phoenix Association took flight to provide brain injury rehabilitation to individuals and their families who are otherwise unable to access treatment due to financial limitations. Service offerings include individual and family counseling, group psychotherapy, speech therapy, occupational therapy and in-home services/life skills support.
"The Wings of Phoenix is staffed completely by volunteers and that is why fundraising is so vital to this organization," comments Mia Pascoe, secretary/treasurer. The non profit's primary fundraiser is the Sargent Robin Easey Golf Tournament, and June 6, 2011, marked the 5th annual. The event is kicked off with a bang . literally there is a shot gun start at 1:00 p.m. The participants golf 18 holes, there is a raffle and a ball drop. Glennis Easey remarks, "The ball drop is hilarious. A local company donates a large bucket and someone gets in and literally drops the (golf) ball. If your ball is the one dropped, you win half the raffle money". There is also a dinner, a live and silent auction, a guest speaker and a testimonial from a client who has accessed the The Wings of Phoenix services. This year's tournament had more than 220 in attendance and raised more than $27,000, which marked the tournament's largest year yet.
Glennis Easey was thrilled to stumble upon 4imprint®'s one by one® program when she was searching their website as a current customer for promotional products. She was pleasantly surprised to find many other Canadian companies who had benefited from the program. She applied and was notified quickly, via email that they had been selected to receive a one by one grant. "We ordered blue water bottles which were placed in the golf carts. They looked very impressive and striking", stated Glennis. "Because of 4imprint®, we were able to take the money that would've been used to buy golfer gifts and put it straight towards rehab. There was much celebration about it!"
For more information about Wings of Phoenix Association, please visit http://www.thewingsofphoenix.ca/default.aspx opens in new window