Oshkosh Area YMCA
Oshkosh, Wisconsin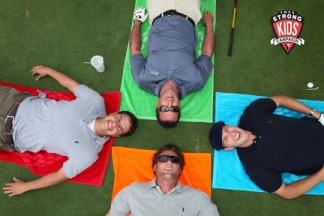 You don't have to be a serious golfer, but you have to be ready for some serious fun. Or, so says the tagline on the Oshkosh Area YMCA's annual Golf Outing to Benefit the Strong Kids Campaign flyer, and really, there's no better way to put it.
At the end of July, more than 200 people gather with the Y for this event that also features a silent auction, raffles at each hole and a wine tasting event to wrap up the evening. When all is said and done, roughly $30,000 is raised at the event each year.
These funds go, as the name depicts, to the Y's Strong Kids Campaign — a special fund that ensures no person in the Oshkosh community is denied Y services or programs based on financial need.
"The Strong Kids Campaign offers scholarships on a sliding fee scale based on need to our community members," explains Amy Albright, community relations director of the Oshkosh Area YMCA. "We end up subsidizing about $500,000 per year or about 20 percent of our membership base and the golf outing helps make this possible."
Likely because it's an event for a great cause that also happens to be a blast to participate in, Albright says that it's much of the same people participating from year to year. A sense of togetherness and pride appears to grow each year in this group, as seen in the yearly group photo taken of all the golfers.
This year's photo is decidedly more colorful than year's past, due in part to the featured giveaway: beach towels. These towels, offered in a variety of colors and made possible by a grant from 4imprint®'s one by one® Program, were meant to be a small token of appreciation for those who gave their time and money to support the day's events.
"The towels were a complete hit and a great fit. People loved them — they were excited that they could choose whatever color they wanted, too, because we were able to order them in multiple colors."
Towels, raffles, golfing and other activities aside, the day is really about the kids.
"It's serious fun, yes, but the Golf Outing really is just another tool to for us to be inclusive and to offer programs that can positively impact the children of this community for years to come," states Albright.
For more information about Oshkosh Area YMCA, please visit http://www.oshkoshymca.org/ opens in new window