Grandmothers Helping Grandmothers of Fredericton
Fredericton, New Brunswick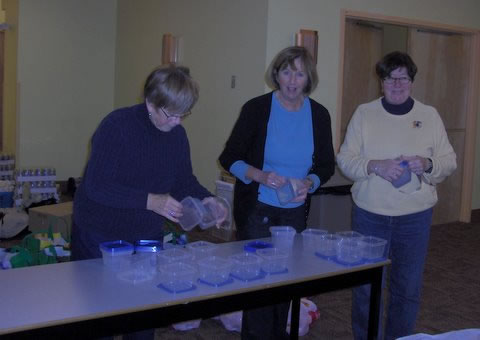 When a cause seems distant, it can be difficult to rally support.
Grandmothers Helping Grandmothers of Fredericton, New Brunswick, is no stranger to this challenge: Its main focus is to help African grandmothers raising children whose parents have died from HIV or AIDS.
Regardless of this obstacle, the Stephen Lewis Foundation group has grown tremendously since its four-member founding in 2006. Grandmothers Helping Grandmothers of Fredericton now involves more than 60 women, and its chapter is one of more than 200 across Canada.
"Lots of people speak out about our group and its cause, which has really contributed to our increased membership over the years," shared Karen Simmons, a member of the group since its beginning. "From spreading the word at women's groups, to talking about it at church, our members are very committed."
Grandmothers Helping Grandmothers of Fredericton takes every opportunity to boost involvement, including increasing general awareness, taking on advocacy roles in government, speaking in educational settings, and putting on a variety of annual fundraisers.
In a recent fundraiser, Grandmothers Helping Grandmothers of Fredericton partnered with Saint Thomas University to encourage parents of students to purchase care bags for their children. The "Thinking of You" totes were chock full of numerous goodies to make any student brim with gratitude, including homemade baked goods, a coffee mug, lip balm, healthy treat options and even logo'd pens and sticky notes, donated by 4imprint®.
But, the best part of the packages wasn't the useful items inside. In each tote, students also found a handwritten note from their parents. Some packages were also accompanied by a photo of their grandmother holding them as a baby, a poem, letters from siblings or even envelopes sealed with a kiss.
"It was a delight to see the surprised students who were like children opening a Christmas stocking," remembered Simmons. "It was a fun campaign, and a huge success."
And, a success it truly was. In total, the program raised more than $10,000 to assist the unsung heroes of Africa.
For more information about Grandmothers Helping Grandmothers of Fredericton, please visit http://grandmothershelpinggrandmothers.ca/ opens in new window