West Valley Search and Rescue
Alta Loma, California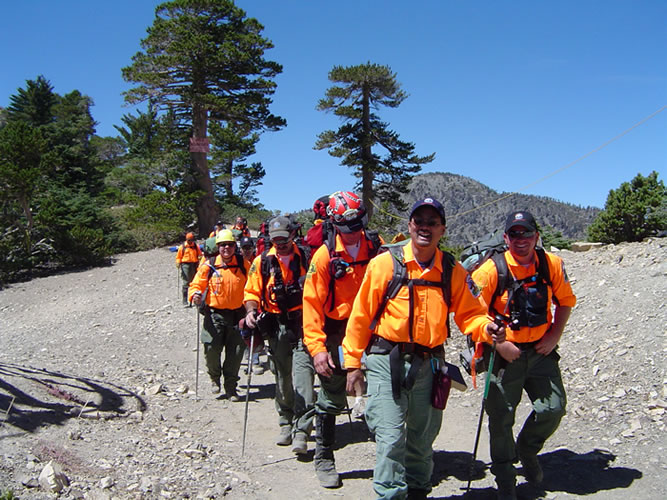 In January of this year, volunteer rescuers at West Valley Search and Rescue in California's San Bernardino County received word from dispatchers requesting assistance in recovering a young man who went for a hike the day before and didn't come home.
The volunteers grabbed their gear, jumped into rescue vehicles and quickly established a command post where the team poured over maps with local authorities, distributed radios and set out to find the boy.
"When we finally found him, he was ready to die," said one volunteer. "Hypothermia had set in and he had given up. He was alive, though, and relieved. All the volunteers and the boy's family just erupted in joy. His mom was speechless and crying and his dad immediately began hugging and thanking every volunteer at the command post."
West Valley Search and Rescue is comprised of 35 volunteers that are trained extensively in tracking skills, field training, rope training, medical training and basic mountain survival — like building snow caves, finding food and traversing the mountain landscape. They respond to weekly calls made by hikers who have lost their way, families who have lost track of children or stranded snowboarders. Last year, the group made a record-breaking 54 missions.
All West Valley Search and Rescue volunteers have a full time job but volunteer because they enjoy the outdoors and the challenge of the terrain. But it's the happy endings that truly make their work fulfilling.
These rescues also serve to reinforce the importance of one of West Valley Search and Rescue's other initiatives: Working with local schools and communities in educating children on what to do if they get lost in the wilderness or even in a public location. This unique program, called Hug-a-Tree and Survive, offers children sage advice to not panic and to remember that someone is looking for you. Children are also advised to stay in one place, "hugging a tree," so those who are looking can find them fast. At the end of the program, each child is given a whistle, donated by 4imprint®'sone by one® program, and instructed to keep it with them and use it to signal for help if they ever get lost or separated from a group.
"The one by one® donation from 4imprint® could mean one more child that we don't have to rescue."
The West Valley Search and Rescue team feels confident that this program and these whistles are already making a difference.
"Not long after we held a program, there was a kid who got separated from the rest of his classmates at a school event," shared one team member. "The chaperones and school staff went into search mode, isolating the rest of the group while volunteers went looking for him. Sure enough, they found him not too far away, blowing his whistle."
For more information about West Valley Search and Rescue, please visit http://www.westvalleysar.org/ opens in new window