Cape Coral Police Department
Cape Coral, Florida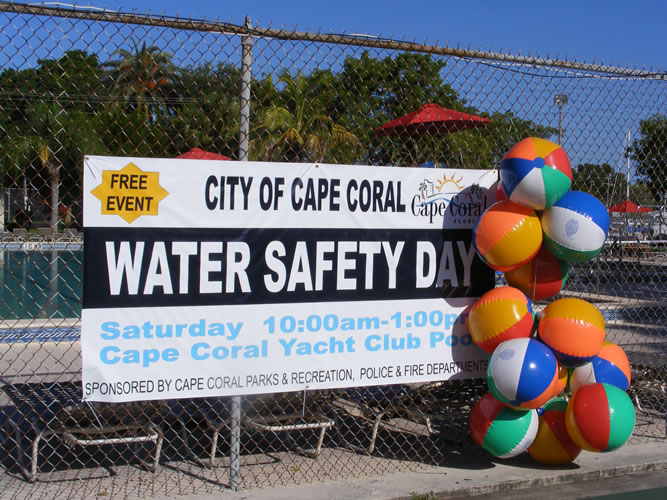 Cape Coral, a sunny city on Florida's gulf coast, recently endured a handful of unfortunate drownings and near–drowning incidents. In an effort to prevent any others from happening, the Cape Coral Police Department partnered with local fire departments and the recreation services to educate parents and children at a one–day water safety seminar, the city's first.
Uniquely located on Florida's gulf coast, Cape Coral is no stranger to water. It has nearly 400 miles of canals and an array of beautiful gulf beaches nearby. And, because of the perpetually warm weather, many of its residents have pools. In fact, Water Safety Day was the idea of a female police officer who arrived first on the scene to a child pool drowning incident. She wanted to educate the community and have an event to ensure that parents and children were well–versed in water safety issues.
Community Outreach Coordinator Cindy Naumann says they were interested in both "pool and gulf and river safety." Together, the police department gave away child and pool locks as well as information about water safety; the Fire Department demonstrated a water rescue; and the Parks and Recreation staff showcased a CPR how–to. Health Department and hospital staff were in attendance along with pool fencing and alarm advocates and a national organization known as SafeKids.
Between parents and children, Cape Coral's Water Safety Day drew hundreds of visitors at the city's Yacht Club Pool. Cindy was inspired by the turnout and, she says, especially inspired by the positive interaction between police officers and children. "Any time we can have interaction with our police officers and our young people, it's a good thing for us."
Before the event, Cindy, who had done business with 4imprint® for years, noticed information about the one by one® grant while searching the company website. She decided to apply for vibrant beach balls as a promotional giveaway for the day and was happy to learn that they had been selected." We were thrilled that we could count on 4imprint® to support us that way," says Cindy. "And that we could share something with our community—it's a terrific thing."