Jonnie's Angels
Chicago, Illinois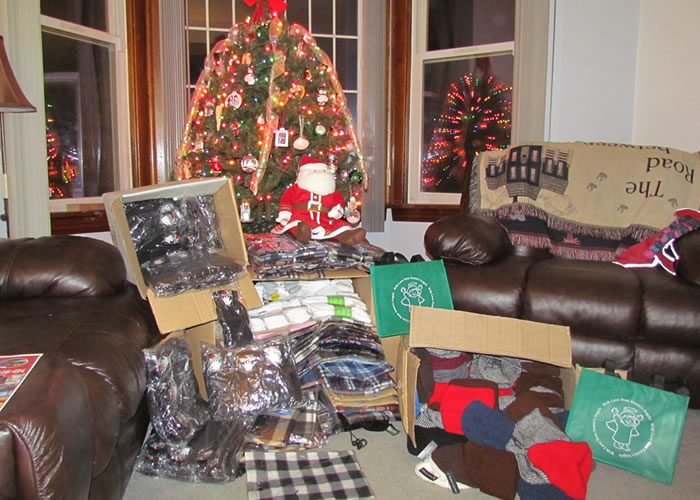 Jon Christopher Ryding was diagnosed with a mental illness, bi-polar disorder, when he was 36 years old. His life drastically changed thereafter. A native of Chicago, he eventually found himself homeless on the streets of LA. It took several months, but his parents, Rick and Donna, were finally able to bring him home in the summer of 2007.
Finally relieved that her son was safe and sound again, Donna asked him what he missed the most. "My cooking?" she inquired.
"No," he said. "Socks!"
Donna's granddaughter looked at her uncle in awe.
"When your feet are cold, everything is cold," he explained.
Jon's wish was that their family and friends could collect and distribute socks to the homeless in Chicago, especially during the cold winter season. Unfortunately, that winter and early spring proved to be a difficult time for Jonnie, who sadly took his life in March 2008.
That year the Jonnie's Angels Foundation was created in his memory. The first year, Donna, her husband, family and friends used paper gift bags filled with socks, hats and gloves, but they soon found that those broke apart easily. Approximately 170 holiday gift bags were given out to homeless men and women in the Chicago area during their first year.
Shortly thereafter Donna found 4imprint® in an online search for a tote bag, something that would last. She's been ordering tote bags from 4imprint® ever since. Now, when Jonnie's Angels go out into the streets to distribute the overflowing tote bags just before Christmas each year, they often encounter people still using their tote bags from the previous year.
In 2009, they delivered 230; then, with the help of the one by one® program, 300 more in 2011. Donna says that their goal is to give out 500 bags for the holiday season of 2012. In addition to socks, each bag also has gloves, a knit cap, scarf, toothbrush and tooth paste, a comb, soap and other assorted toiletries, bottled water, crackers, jars of peanut butter, notepads, pens and decks of cards. These laminated tote bags are filled to the brim to "bring holiday warmth and cheer to those who need it most this winter."
Every second Saturday in December, Jonnie's Angel's supporters gather at the Ryding house to organize and pack donated items into the tote bags. "It's like a Christmas party," Donna says. "It really kicks off the Christmas spirit." There, Donna and Rick and their family and friends remember Jon as a very giving, very loving person. "He would have wanted us to do this," she says. "And we want those people to know that somebody cares about them."