League of Dreams
Bakersfield, California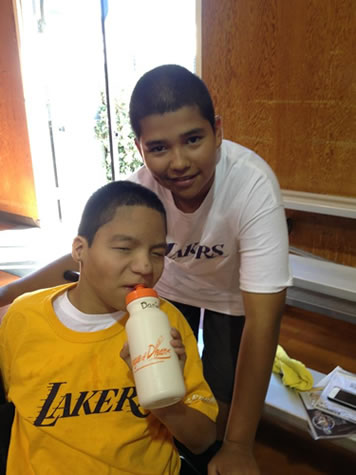 The young girl had been part of the League of Dreams in the years before. She made every basketball game and baseball game. But, this season was different. This season she would try to do something she had never done before; this season, she wanted to stand and walk before the game. She was determined not to let her cerebral palsy slow her down or keep her in her wheel chair. People on the sidelines and in the stands caught their breath as she stood. And when her family helped her walk from one end of the court to the other, the crowd cheered.
The League of Dreams is a nonprofit for special needs children in Bakersfield, California. As an organization devoted to youth sports, the League of Dreams works hard to "provide sports training, team camaraderie and competitive sporting opportunities for athletes with disabilities."
It all began in 2007 when Tim Terrio, the owner of a local physical therapy practice, decided to create something for kids unable to participate in regular sports. He wanted them to be able to be an athlete no matter what their disability. He believes, "Every child should have the chance to play."
Now, five years later, children and adolescents ages 5-22 come together to play team sports. Whether they're developmentally disabled or terminally ill, here was a place for them to come together to play sports and have fun. Presently, the League of Dreams facilitates three sports seasons for over 250 children and families in the Bakersfield area.
Baseball and basketball are the two main sports seasons for the League of Dreams (and bowling will begin soon!) Each season begins with "try outs" hosted by a licensed physical or occupational therapist. Divisions are based on age, size and abilities, a decision made by the therapist to determine the abilities of each athlete and how best to place them with other athletes of similar skill-levels. Games are played with the same ideas and adhere—mostly—to the rules, but they are slowed substantially to allow each athlete to learn, understand and participate within their ability.
The first game of every season opens with a special ceremony to recognize athletes, each of whom receives a picture package, a jersey and a hat (if it's baseball). For the opening of the 2012 basketball season, however, Executive Director Jessica Mathews sought an additional gift for the athletes through a 4imprint® one by one® grant—water bottles. When the water bottles were passed out, the athletes were "super excited," she recalls. "Almost all of them brought their water bottles to each and every game."
The happiness and excitement is what matters to Jessica. "It's seeing a smile on their faces," she says. "It's so hard to explain to somebody what it's like to see a kid get up for the first time . or go from first base to home plate."
For more information about League of Dreams, please visit http://www.ourleagueofdreams.com/index.php opens in new window