Derby Community Foundation
Derby, Kansas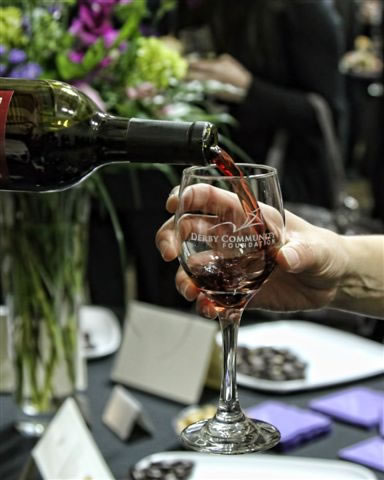 The Derby Community Foundation of Derby, Kansas always held a Western-themed event, complete with a dinner and dance, to fund their community enrichment grant program. It just seemed like the appropriate thing to do seeing that they had a beautiful, historic, 100 year-old, Shaker barn for a venue. But the event was becoming stagnant. Ticket sales were down and attendance was dwindling. Derby Community Foundation decided it was time for a change.
And change they did. This year's event, called "Uncorked,"consisted of an elegant wine tasting and art auction. It was held at the Derby Public Library's brand new facility, complete with a gallery to display all the works of art for the auction. The event was so successful that they ran out of everything, including the 250, faux-etched wine glasses they ordered with their 4imprint®r one by one® grant.
With the new and improved event, the Derby Community Foundation close to doubled the amount of money they raised. Their Executive Director, Theresa Hearn stated, "It would be my dream to use these extra dollars to start an endowment fund to ensure that our community enrichment grants last forever."
"This was an elegant, classy event and our fabulous wine glasses were the tip of the ice burg. We never could have afforded them without the one by one® grant from 4imprint® and we feel very fortunate to have received that funding," stated Hearn.
The Derby Community Foundation's mission is to inspire vision and generosity, but as Hearn likes to put it, "it's helping people help others." Their community enrichment program awards up to $10,000 in grants each year to area nonprofits who take innovative and creative approaches to solving local problems.