Lawrence County Cancer Patient Services
Bedford, Indiana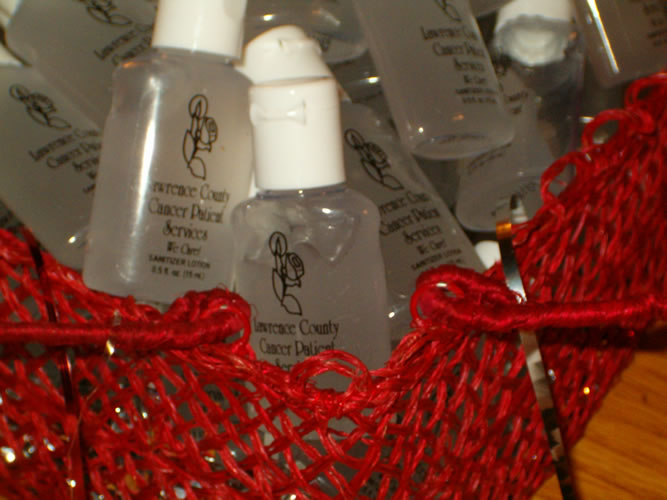 This Indiana-based, all-volunteer nonprofit organization has been making a difference in the lives of cancer patients across Lawrence County. No matter their age or gender or type of cancer they've been diagnosed with, the volunteers of Lawrence County Cancer Patient Services are there to help.
Established in 1996, this group works hard to provide cancer patients with the things they need. Sometimes that's a guest driver or gas card to take them to a clinic or hospital in a bigger city; sometimes it's wigs or mammograms, Boost® or Ensure®. Other times it's a "cheer bag."
Cheer bags are distributed to cancer patients in various treatment programs around Lawrence County. They include any number of things that may come in handy. Brenda McKain is the group's secretary and plays a large part in putting together cheer bags. "We had one lady, 83 years old, who had breast cancer— she went through the special breast cancer cheer bag with her daughter four times and insisted they could use everything in it."
"Another time," says Brenda, "One lady called and said since she wasn't getting her treatments, so she wasn't getting her bag; we made a special one for her—a great big box! She was so grateful."
In 2012, Lawrence County Cancer Patient Services distributed more than 250 cheer bags. One of the things they filled them with were personal-sized hand sanitizer bottles with their logo on it, a gift from 4imprint®'s one by one® charitable giving program. "These patients love to get cheer bags," says Brenda. "They can't wait to see what's in these little bags."
For more information about Lawrence County Cancer Patient Services, please visit http://lawrencecountycancerpatientservices.org/ opens in new window