Operation Nightwatch
Seattle, Washington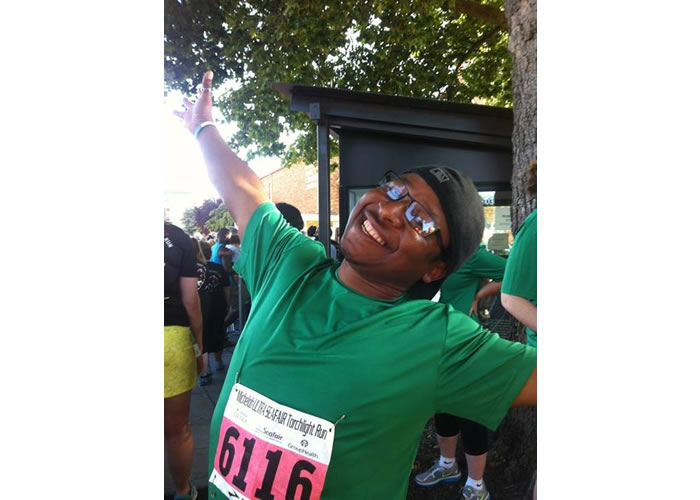 Operation Nightwatch began in the late 1960's as a night ministry—its purpose was to support and serve those living on the streets. Today, what started as one man's mission to reach the homeless has evolved into a nonprofit organization that now provides shelter and food to 150 homeless adults every night.
This year, Operation Nightwatch decided to try something new and asked the homeless people they serve to participate in a fun-run to benefit the organization. Clients and volunteers participated in the Seattle Seafair® Torchlight Run and raised over $15,000 to support their shelters. One participant, an immigrant from Zimbabwe posted on Facebook®, "[Pure] fun was something I didn't know . I have developed a new appreciation for LIFE . to be part of something like [the Seattle Seafair Torchlight Run] was a JOY!"
Nightwatch was a recipient of a 4imprint® one by one® grant and used it to purchase bright green running shirts for the event. Shoes and other running gear were donated by various organizations. Volunteers and runners trained together, which helped break down walls that exist amongst the populations. "Stories were shared and stereotypes were destroyed," said Rick Reynolds of Operation Nightwatch. "If you think about the day-to-day survival needs of our clients and then think that they want to participate in this run to help our organization—it's amazing."
After finding out Operation Nightwatch received a promotional products grant, "We were jumping up and down and so happy," said Reynolds. "The shirts are beautiful and they really created unity and helped us stand out as an organization."
For more information about Operation Nightwatch, please visit http://www.seattlenightwatch.org/ opens in new window