Shyann Kindness Project
Tucson, Arizona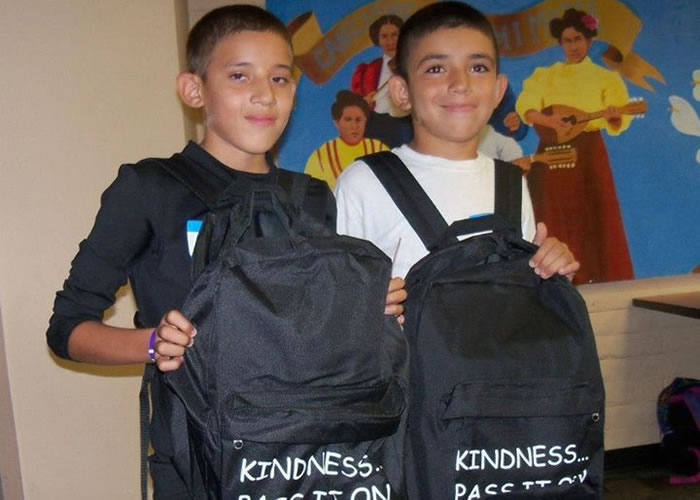 The Shyann Kindness Project was born from just one act of kindness—one that was performed in memory of an amazing little girl, Shyann Rosati, who had recently passed away due to complications from a multitude of diagnoses. This nonprofit organization started when a family friend paid a visit to a children's emergency room with a slew of gifts—crayons, coloring books, stickers, books and more—to distribute to kids spending Christmas in the hospital. But there was a uniqueness to these gifts . attached to each one was a kindness card that encouraged its recipients to "pass it on." From there, the Shyann Kindness Project came to be and what started as a one-time act is now a bi-monthly event that to date has touched the lives of more than 14,000 children.
One of the most recent kindness events held by the Shyann Kindness Project was "Backpack Night." In partnership with a local library, they provide backpacks loaded with school supplies to underprivileged students. To receive one, all the students have to do is write an essay or draw a picture that illustrates how they pass on kindness to others. A lucky five are also chosen to receive a free computer, donated by a member of the Pima County Board of Supervisors.
Promotional products retailer 4imprint® rewarded a one by one® grant to the Shyann Kindness Project which was used to purchase the backpacks for "Backpack Night." On them, the phrase "Kindness . Pass it on" was imprinted. "There were numerous other backpacks available in addition to the ones we purchased from 4imprint, but many of the kids chose the ones with the kindness saying first. It was very touching," stated Shyann's mother and executive director of the Shyann Kindness Project, Sandy Rosati. "I think it is really important that a company like 4imprint gives back. We wouldn't have been able to do this without these types of in-kind donations."
For more information about Shyann Kindness Project, please visit http://www.shyannkindness.org/ opens in new window