Peace Learning Center
Indianapolis, Indiana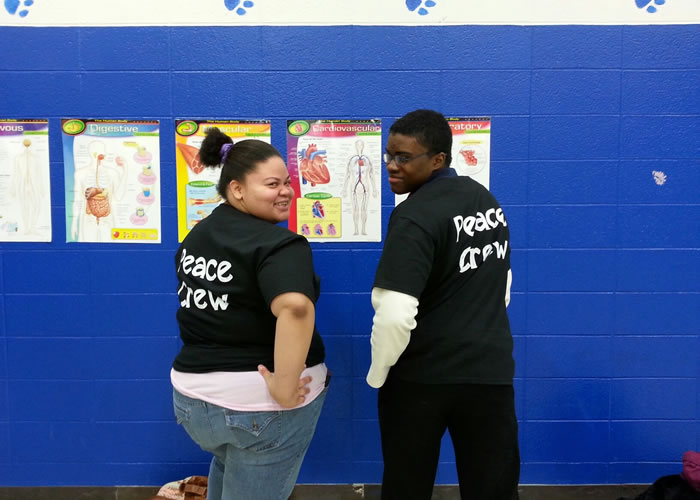 Peace Learning Center is an Indianapolis-based nonprofit organization on a mission to educate, inspire and empower people to live peacefully. The organization works primarily with youth and facilitates peace education that teaches students effective conflict resolution skills and builds empathy by helping students better understand and appreciate each other's differences. Peace Learning Center reaches nearly 10,000 people each year through a variety of programs. One such program is the Peace Crew.
The Peace Crew is comprised of high school juniors and seniors who are trained to facilitate peace education. Each year they reach close to 1,000 students at local elementary and junior high schools. There are three main lessons taught during a three-week period. In week one, there is an emphasis on getting along well with others and providing an inclusive environment. Week two addresses the barriers to graduation to prepare students for any roadblocks they may encounter. And in week three, students are taught the impact hurtful words can have on the people around them. "This program is effective because it is facilitated by peers," said Peace Learning Center volunteer and intern coordinator Jay Horan. "It's not uncommon to hear teachers say [the phrase] 'you have to do things the Peace Crew way' as a way to encourage their elementary students to imitate their peer role models."
Peace Learning Center was a recipient of a one by one® grant from promotional products retailer 4imprint®. The grant was used to purchase T-shirts to set Peace Crew members apart from the students they mentor and to lend credibility to what they're doing. "There is a complete transformation once the [Peace Crew members] put their shirts on—they're definitely strutting their stuff," said Horan. "It's the little things like this that can make your program more professional and impactful."
For more information about Peace Learning Center, please visit http://peacelearningcenter.org/ opens in new window