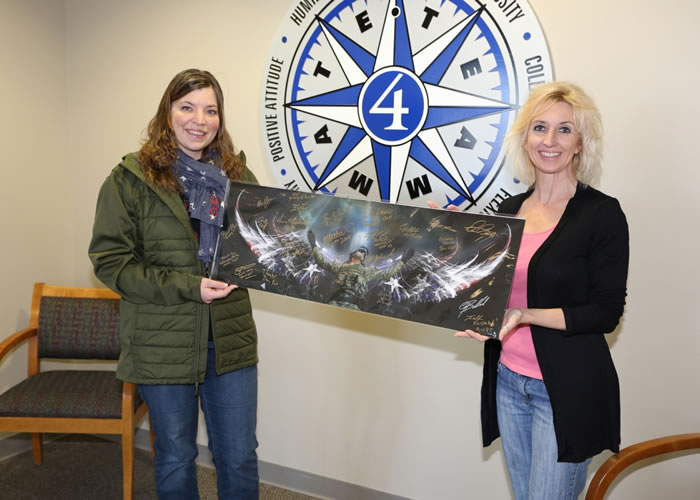 On Purpose Journey Inc. seeks to make a difference in the lives of those who serve. The nonprofit organization, celebrating its eighth year this May, offers support to those who serve both country and community-including deployed troops, veterans, firemen, police and their families. In the past three years alone, On Purpose Journey has supported 20,320 heroes.
One way the organization makes a difference is by organizing special events. Recently, it joined Advanced Disposal to host the third annual Combat Warrior event at Lambeau Field in Green Bay, WI. Twenty-two warriors were in attendance. They had their photos taken with former Green Bay Packers, received footballs signed by Mark Murphy and one warrior even got to touch Aaron Rodgers jersey prior to the game-the Packers then went on to win that game against the Philadelphia Eagles, 53 to 20.
"Our events serve a dual-purpose-we hold these events to honor those who serve, but they also present our warriors with the opportunity to network and connect with one another," said On Purpose Journey founder and president Mollie Manhattan. "They can connect with people who understand what they've gone through and who understand the effects combat has on transitioning back into the community." At the Lambeau event, an interesting connection was made between two warriors. Both were medics, both were from the 101st. And both were recipients of Purple Hearts. But they served worlds apart-one in Afghanistan; the other in Vietnam. However, the event bridged generations.
On Purpose Journey was the recipient of a one by oner from promotional products retailer 4imprintr. They used the grant to purchase scarves embroidered with the www.onpurposejourney.com website. "I was so excited to find out we were chosen to receive a grant. It's really great when you're doing something to help others and there are companies joining you in that effort to make people feel extra special and appreciated," said Manhattan. As a special thank you for the donation, On Purpose Journey presented 4imprint with a beautiful Jason Bullard print signed by both the artist and the warriors.